Will SAND Price Climb or Fall as Token Unlock Approaches
SAND's price is likely to tank 20% or more following the next unlock that will disburse a further one-fifth of all SAND tokens owned by investors and seed sale participants.
Virtual world Sandbox's 30-month anniversary unlock on Feb. 14, 2023, will release 348 million SAND tokens ($179 million) to seed and strategic investors. According to the project's tokenomics data, seed investors will receive just over 17% of the total SAND supply by Aug. 14, 22, 2023, according to a 12-month cliff, while other strategic sale investors will receive 4% by the same date.
Previous SAND Unlock Suggests Buying Opportunity
The unlock, slated for 8 a.m. UTC, will release roughly 12% of the 3,000,000,000 supply of SAND. The metaverse token has fallen almost 94% from its all-time high of $8.40 to trade at approximately 52 cents at press time.
Crypto investors can exploit a potential buying opportunity immediately after the token unlock when the price is expected to fall to around 40 cents.
Trading volumes surged about two-thirds to over $540 million after the last unlock on Aug. 14, 2022, according to CoinMarketCap. Data from TradingView at the time suggested that much of the volume was caused by a significant sell-off.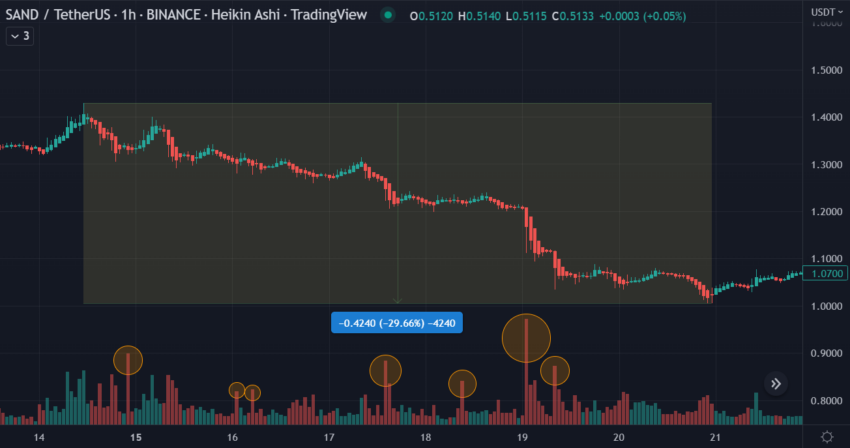 Additionally, the last token unlock sparked a downtrend that saw SAND lose almost 60% of its value by Jan. 10, 2023.
However, the token rose about 25% from 41 cents to 52 cents in the last seven days, sparking hopes of a relief rally in the days leading up to the unlock in mid. Feb, 2023. 
What is SAND?
SAND functions as a medium of exchange in The Sandbox. The Sandbox is a gaming-focused virtual environment that allows users to exchange digital creations on a non-fungible token (NFT) marketplace. SAND holders can also take part in decisions on the future of The Sandbox decentralized autonomous organization (DAO), buy ASSETs and LAND in The Sandbox, or trade their SAND on the open market. The SAND DAO treasury holds roughly 26% of the token's supply.
SAND holders wishing to earn returns can lock up their tokens in a staking smart contract to win GEMs. They can use GEMs to define the rarity of any user assets they upload to the marketplace.
Singapore's DBS Bank recently bought LAND in The Sandbox to enable virtual client interactions.
The trading volume of SAND across all exchanges in the last 24 hours was about $268 million, averaged from data providers Coingecko and CoinMarketCap.
Several other DeFi tokens with upcoming unlocks could tank within the next two months, including move-to-earn token SWEAT, BitDAO's governance token BIT, and Yuga Labs' ApeCoin.
For Be[In]Crypto's latest Bitcoin (BTC) analysis, click here.
Disclaimer
BeInCrypto has reached out to company or individual involved in the story to get an official statement about the recent developments, but it has yet to hear back.